Wrongful Death Attorney in New Orleans, LA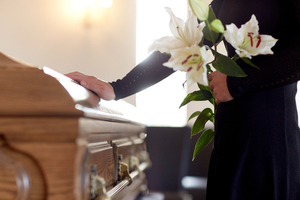 Wrongful death and survival actions often involve complicated legal and medical issues. It is important to select a lawyer who is not only sensitive to your loss, but is also experienced in all aspects of pursuing these claims.
Wrongful death/survival action claims may arise from many different types of accidents, including but not limited to: car, truck, motorcycle, boat, drunk driver, construction and workplace sites, medical malpractice and product liability. A wrongful death may happen anywhere at any time. While it is impossible to replace the loss of a loved one, the Cardone Law Firm can see to it that the person who caused the death is held responsible. Cliff will fight to get the victim's family just and fair compensation. If a loved one or a relative have died because of the fault of another then you need to Phone Cardone to receive the compensation you are entitled to.

Louisiana law recognizes that the loss of a close relative can be devastating to the surviving family and provides a way to protect certain family members of the deceased. To help the family, damages may be awarded for, among other things:



Loss of support
Loss of services
Loss of love and affections
Lost wages and benefits


Loss of society
Mental anguish
Pre-death mental and physical pain, suffering and terror
Funeral and burial expenses

The law demands that anyone responsible for causing the death of another must compensate the family for their loss. Our laws also allow certain family members to seek damages for the pain and suffering that their loved one endured prior to death. This is called a survivor action.

Louisiana provides that only a select group of people may file these types of actions. The following may bring a survival or wrongful death action:
1. The victim's spouse and children,
2. The victim's parents, if the victim left no spouse or child surviving,
3. The victim's brothers and sisters, if the victim left no spouse, child, or parent surviving, or
4. The victim's grandparents, if the victim left no spouse, child, parent, or siblings surviving.
There is a time limit in which these types of actions must be filed. The wrongful death/survival action claim must be filed within one year of the death of the deceased. It is very important to file within this time period because if family members wait too long they will be barred from filing suit and receiving the justice they deserve.

Mr. Cardone represents clients with wrongful death/survival action claims in all of Louisiana including Ascension Parish, Donaldsonville, Assumption Parish, Napoleonville, Baton Rouge, Jefferson Parish, Estelle, Gretna, Harvey, Kenner, Marrero, Metairie, New Orleans, Terrytown, Westwego, Lafayette Parish, Lafourche Parish, Thibodaux, Livingston Parish, Orleans Parish, Plaquemines Parish, Belle Chasse, and St. Charles Parish.
The Cardone Law Firm works for and with clients to achieve the best results possible for all wrongful death matters. It is important to receive compensation for the wrongful death of a family member. It is equally important to have a skilled attorney not only sensitive to your loss, but who has experience in these types of actions. Mr. Cardone has over 37 years of experience practicing law and has primarily focused on personal injury matters. If a family member has died because of the negligence of another party you need to Phone Cardone at 504-522-5333 at the earliest possible time to receive the justice your family deserves. You can also fill out the online contact form for a free and quick response.