Fog Accidents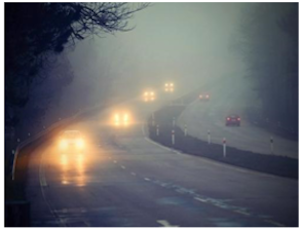 Each day, drivers may experience various types of distractions while operating their motor vehicle. Sometimes these hazards are caused by mother nature. Specifically, fog is one of the most dangerous weather conditions that put drivers at risk on the roadway. Because fog can distort a driver's perception of the road and other vehicles around them, it is crucial to be responsible and drive defensively.
According to the Federal Highway Administration, over 38,700 motor vehicle accidents occur in fog each year. Of these crashes, over 600 people are killed, and more than 16,300 individuals are injured annually.
Fog can greatly reduce a driver's visibility of the roadway, so it is important to drive with caution to avoid getting in an accident. Fog is most prevalent in the early morning and at dusk. The safest choice is to avoid driving altogether in dense fog, but that is not always option. Here are some tips for driving defensively in the fog:
Slow Down. Although you might not want to be running behind on your day, arriving late is much better than causing an accident. Because you cannot see far ahead, reducing your speed can help you avoid colliding with other vehicles not immediately in your sight. You want to be able to have ample time to stop in the event you see a car last minute.
Use low beam lights. Many drivers believe that using their high beam lights will increase visibility, but they actually decrease visibility as it reflects more light back to you off the fog.
Use your fog lights. If possible, use your fog lights in addition to your low beam lights. Not only will fog lights provide you better visibility by illuminating the road underneath the fog, they will also aide other vehicles to see you better.
Take advantage of your defroster and wipers. Using your defroster and windshield wipers to clear your windows can help improve visibility.
Keep your distance. Maintaining a safe distance between you and the vehicle in front of you can help you avoid an accident. This allows you more time to react in case something happens. Typically, drivers keep a count distance of two seconds behind another vehicle, but in the fog, you should increase this to 5 seconds.
Eliminate Distractions. Lower the volume of your radio, quiet your passengers, and avoid talking on your cellphone. Your complete attention to the road is even more vital in extreme weather conditions.
You may be wondering who is at fault when there is an accident caused by fog and other harsh weather conditions. While drivers cannot be held accountable for bad weather conditions, they can be responsible for their failure to exercise due care on the roadway.
Just like any other collision, several questions must be answered to determine liability. Was the other vehicle speeding or driving reckless? Was the other driver taking necessary precautions to see other vehicles on the road such as using their fog lights/ low beam headlights? Were they following too closely behind the vehicle in front of them? An experienced personal injury attorney can assist you in establishing fault. When another driver causes your injuries, you can sue them for damages by filing a personal injury lawsuit. You may seek compensation for medical treatment, lost wages, loss of earning capacity, pain and suffering, loss of enjoyment of life, etc.
If you or a loved one has been injured in an accident, the Cardone Law Firm can help you. New Orleans personal injury attorney, Mr. Cardone has proudly represented clients all over Louisiana for over 40 years. He is determined in helping each client receive the compensation he or she rightfully deserve.
We have offices in New Orleans, Baton Rouge, and Lafayette. Phone Cardone today for a free consultation. You can reach us at 504-522-3333, 225-706-3920 (Baton Rouge); or email us at c@phonecardone.com.