Whiplash Injuries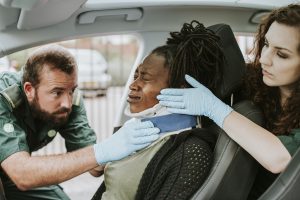 Attorney Assisting Accident Victims in New Orleans and Throughout Louisiana
When people who are involved in accidents do not notice immediate symptoms, they often assume that no harm has occurred. However, some injuries, such as whiplash, are not immediately apparent but can take hours or days to develop. Whiplash injuries not only cause discomfort but also can result in significant financial damages. If you suffered a whiplash injury, you may be entitled to damages, and you should speak to an attorney regarding your potential claims. Experienced New Orleans whiplash injury lawyer Cliff Cardone will work zealously to help you seek the best result available in your case. Mr. Cardone represents victims in personal injury lawsuits throughout Louisiana.
Common Causes and Symptoms of Whiplash Injuries
"Whiplash" is the term used to describe injuries to the neck and cervical spine. Other terms used for whiplash injuries include hyperflexion or cervical or neck strain or sprain. The majority of whiplash injuries are caused by car accidents, especially rear-impact collisions, but whiplash injuries also can be caused by slip and fall accidents, accidents at sporting events, and assault. Generally, a whiplash injury occurs when an impact causes an extreme flexion back and forth of a person's neck while the person's body remains still. Whiplash injuries also can be caused by repetitive motions in the workplace that cause a stress injury.
In many cases, the full extent of the harm caused by a whiplash injury is not evident at the time of the accident, and it may take days or weeks for a whiplash injury to be accurately diagnosed. Whiplash injuries can cause pain, tenderness, and loss of mobility. They also can cause numbness and tingling, headaches, vision disturbances, and vertigo. It is important for anyone who suspects that they have suffered a whiplash injury to seek medical treatment and to document their symptoms.
Proving Liability for a Whiplash Injury
Typically, a victim and a whiplash injury attorney in New Orleans will file a civil lawsuit alleging a negligence claim against the party that caused the accident. Generally, a plaintiff asserting negligence must show that the defendant owed the plaintiff a duty, which was breached, and that the breach caused the plaintiff to suffer harm. The duty owed depends in part on the relationship between the parties and the circumstances that existed at the time of the accident. In most cases, the duty owed will be the duty to act as a reasonably prudent person would act.
In many situations, a defendant in a case arising out of a whiplash injury will argue that the injury was not causally related to the accident. Thus, the plaintiff's attorney may need to engage an accident reconstructionist to explain the mechanics of the accident and the nature of the injuries that the forces involved in the accident could produce. Additionally, the plaintiff's attorney may need to retain a medical expert to testify regarding the extent of the plaintiff's harm. In cases in which the plaintiff was unable to work due to his or her injuries, a New Orleans whiplash injury attorney may retain an economics expert to assess the loss of earnings caused by the injury.
Damages Recoverable for Whiplash Injuries
If you suffered whiplash injuries due to someone else's negligent acts, you may be able to recover the cost of any medical treatment that you needed to undergo, including physical and occupational therapy, and prescriptions for medication. If you could not work because of your injuries, you may be able to recover lost wages. In addition to compensation for your economic harm, you may be awarded damages for the pain and suffering caused by your injuries.
Meet With a Trusted Personal Injury Attorney
Whiplash injuries can cause significant pain in addition to financial harm. If you believe that you have sustained a whiplash injury, you should meet with a trusted attorney to discuss your potential claims. Attorney Cliff Cardone is a skilled personal injury lawyer with the knowledge and experience needed to craft compelling arguments in favor of your recovery of damages. Mr. Cardone represents people who need a whiplash injury lawyer in New Orleans and other cities throughout Louisiana. Phone Cardone at 504-522-3333, or use the online form to set up a free and confidential meeting.